- MT WHITNEY CLIMBER - MOTIVATIONAL SPEAKER
Hiker:
MT Whitney Specialist
DOB:
06-01-47
Place of Birth:
Los Angeles, CA
Place of Residence:
San Diego, CA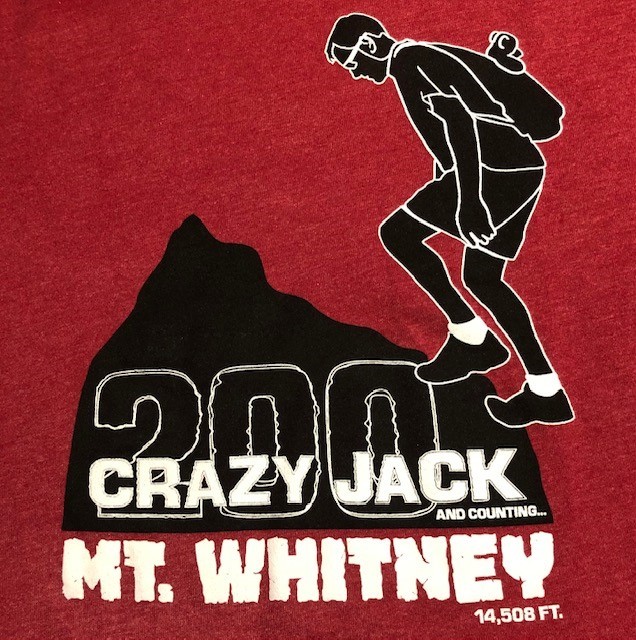 Jack Northam is a married father of three children, and lives in San Diego, California. Jack was always an active man who, in his younger years, began racing bicycles at age 15. He continued racing through an enlistment in the Marine Corps, and even attempted to qualify for the 1968 Summer Olympics. Jack was married and after his enlistment he began a career as a roofing contractor in the San Diego area. He continued to stay active with both bicycling and running while coaching collegiate baseball throughout the years. However, in 1991 he ruptured a disc in his back. The pinched nerves caused by the injury led to permanent muscle atrophy on his right side. This severely limited his activity as he was no longer able to run or bicycle competitively, so Jack took up walking as therapy. Walking led to hiking and in 1997, Jack completed his first summit to the top of Mt. Whitney at age 50. The summit is an 11 mile trip (22 miles total) that is a grueling collection of switchbacks with an elevation change of over 6,100 feet. Not only is the climb very demanding physically, altitude sickness caused by the reduced amount of oxygen is very common. So, one hundred ascents might seem a little extreme to most people, even seasoned hikers. Only a dozen or so hikers can claim to have summitted Mt. Whitney 100 times with Jack having completed this task in the summer of 2011. Still, there are fewer people who can claim to have summited twice in one day, (44 miles total) a task that Jack has also completed on multiple occasions. However, on September 23rd, 2021, Jack reached a new milestone as he summited Mt. Whitney for the 200th time, even after having turned 74 on the first of June 2021.
MT Whitney Summits AND COUNTING
1,278,832 feet of elevation gain
MT whitney summits from hwy 395 and back
portal to summit to portal to summit to portal
elevation of mt Whitney summit
200 summits equals 1,278,832 feet of elevation gain. That distance is the equivalent of 220 miles.
Age - 75

200 Mt. Whitney Summits and Counting

6 Doubles (Portal to Summit to Portal to Summit to Portal)

4 Summits from Hwy 395 to the peak and back
Mt. Whitney has a recorded elevation of 14,508 ft. and is the tallest peak in the US contiguous 48 states, and on the mountain, Jacks nickname is 'Crazy Jack'. The stories from the hikers around Mt. Whitney tell the tale of a man that has educated, encouraged, helped and even rescued those who have experienced trouble while attempting to summit.

"crazy Jack" and his wife Betsy of 53 years.
Jack is grateful for his supportive wife who is an avid summiter herself. Betsy has summited MT Whitney 66 times and from all four main routes including the east face. Many times Betsy has hiked with Jack, only to detour before the summit to "explore what's over the next ridge".
Jack and Betsy Northam, Veteran Hikers and Mountain Celebrities,
are willing to share their knowledge and tips for making your climb a success. Whether your group is 1 or 100, you can contact them to schedule a basic talk or provide a detailed presentation.


200th Summit of Mt. Whitney and Counting
On September 23rd, 2021, "Crazy Jack" Northam completed his 200th summit of Mt. Whitney. This is an incredible achievement and we are very excited for all of the hard work and dedication that Jack has invested in this endeavor.
For those who are training to summit and for those who have already summited, it is hard to imagine the thought of doing it over 200 times. When asked why does he do it?, Jack says "As we get older we look for challenges to keep us motivated" This challenge has allowed Jack to stay in excellent shape while meeting many different people from all over the world. Regardless of your reason, it is understood that life is a climb,.... and Jack is a Life Climber. It's just that simple.
This is an incredible story of an incredible man completing an incredible challenge. Lets join in celebrating this acheivement with "Crazy Jack" by droping him an email of encouragement.
TIPS for Hiking Mount Whitney
1.
Water-
You will cross water eight times so don't carry more than you need.
2.
Food-
Bring a variety of sweet, salty, protein and fats, then listen to your body for what and when to eat. Remember, if you don't like something at sea level, you're not going to like it at elevation.
3.
Shoes-
Wear something comfortable that you have already trialed. The mountain is not a place to break-in a new pair of shoes.
4.
Clothes-
Wear layers that can be added or removed as the temperature changes. It's also advised to bring a change of clothes in the event you are forced to spend the night on the mountain.
5.
Pace-
Selct a pace that will ensure you will succeed. All too often, people start out going too fast and they are forced to turn around before reaching the summit. Remember, the summit is only half way.
6.
Weather-
Keep an eye on the weather both before and during your summit as it can rapidly change. If the weather is questionable, be mentally prepared that you may need to turn around without summitting.
7.
Acclimation-
Although everyone is different, to achieve proper acclimation prior to hiking to the summit, it is recommended that you should spend a minimum of three days above 8,000ft elevation.
8.
Altitude-
The only way to combat altitude sickness is to reduce elevation. If you start getting sick,.... turn around and head down the mountain.